Our offering in colours stretch 300 and are indicative of the brands we offer.
Many people call with a very consistent question in regard to our colour options and the specific colour that would be the most appropriate for their home or application. With advice comes a certain degree of responsibility and therefore we take this question very seriously.
Standard colours available vary depending on door system suppliers. These suppliers are listed below with there options.
We also provide the option to powder coat non standard colours if required for all our products. Powder coating is an additional  service and can extend expected delivery times usually by a week; this should be considered if a fast turnaround is needed.
One of the considerations needed when choosing a door colour is the availability of door hardware. It is not possible to powder coat door furniture, nor is it possible to powder coat the hinges. In most cases this would never be a problem.
Our consultants will always go over the options with a colour wheel onsite.
Sometimes you need not match it to the existing door jambs; it may be more appropriate to match it to the brickwork or cladding or whatever the outer surrounds of the door jambs are. Sometimes it can work to match it to the down pipes and guttering and also to the actual window frame colours. It is very much an individual choice and as stated, difficult for us to give firm, solid advice on.
Prowler Proof
All Prowler Proof security doors come in 50 standard colours and another 250 optional colours. There is no extra delivery time and only a small premium on optional colours. Handles and hinges by Prowler proof are always black. Check out the standard colours below or more options please download the complete colour charts below –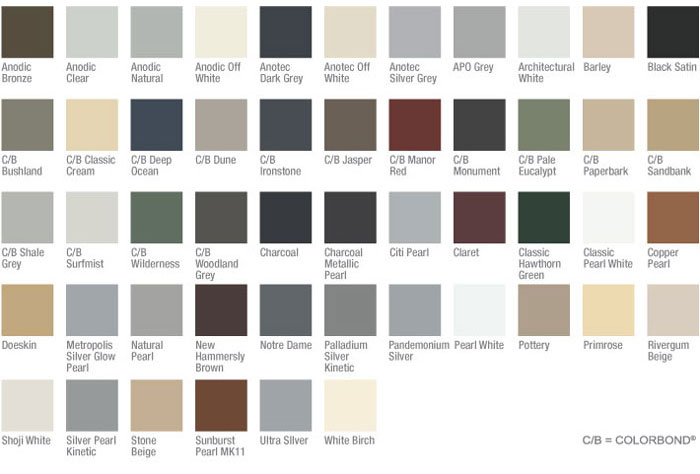 SecureView
The SecureView frame is finished using Interpon™ powder coating in a wide range of colours, including the latest Colourbond™ colours.
If you have a need for a security screen door but have a beautiful timber frame why not consider something like the wood grain effect Aluminium frame from Secureview. No two   lengths are the same.
DecoView
Decoview want you to make an impression, and the easiest way to do that is with colour. Decoview Doors are powder coated in a huge range of colours. They use the highest quality Dulux and Interpon powder coatings, you can be assured your Decoview Security screen is looking good for years to come. With an in-house powderworks any colour is considered standard with a 10 year guarantee. Extras cost applies to some finishes like the highly durable Duratec range.
Colour PDF's
dulux-colour-selector dulux-exterior-residential-powder-coating-colours duratec-x15-colour-card fluoroset-x25-colour-card
Repeat Customer
This was the second time we've had Bay & Basin Security Doors install new doors at our place and we've been incredibly impressed with the quality of the work and the quality of the service on both occasions. The team are prompt, helpful and provide great quality doors. They were very flexible with our installation time which was greatly appreciated. Wish everyone was as easy to work with. Thanks so much Bay & Basin Security Doors. 5 Stars
T.C
Professional
The whole process was easy and professional. Quote was very reasonable and works were completed as promised, when promised.
I highly recommend. 5 Stars
R. C
Terrific
From quote to installation, these guys were professional and terrific to deal with. Great end product too. We were very happy and can highly recommend Bay and Basin Security doors. 5 Stars
J. S
Reliable
Phoned a local "competitor"who attended but after 4 weeks I still haven't received a quote. I then called Bay and Basin Security Doors and spoke to Teri who advised Daniel would be there within 2 hours…he was. He quoted on the spot and the work was done in 2 days. Great job for a good price…still waiting for the original bloke to get back to me… 5 Stars
B. L
Service
Outstanding service – definitely recommend using these guys!!
5 Stars
S. U
Thankyou
Love our new security slider doors, best service, thank you.
5 Stars
M. N M
Great job
Just had a secureveiw door installed, great job excellent service highly recommend and a great price.
5 Stars
M. B
No more flies
Great service . love my new pet door and security screen. yay no more flies. highly recommend.
5 Stars
R. RL
Excellent
Excellent, prompt service from Daniel and the team.
5 Stars
J. M
All genuine Feedback from Google and FaceBook building trust keeping us to account for the product and services we provide
Daniel, Teri and Team